Online Course/Webinar/eBook Marketing Pack 10932112 Videohive – Free Download After Effects Templates
After Effects Version CC++ | No Plugin | 1920×1080 | 5 MB
Related Templates on Videohive
Online courses, eBooks, Webinars, and Masterclasses are the next big thing. After working hard on creating your course, it's now time to promote it, share it with the world, and generate sales. This is exactly where this template (Online Course/Webinar/eBook Marketing Pack) comes into action. This video template was created to provide you a complete set of video marketing tools to promote your online course and through that, bring in more sales.
Looking for the Premiere Pro version? Get if here
Truth is, creating an online course or an ebook is a lot of work, and once that's done, it takes a lot of effort into marketing and selling it. That's why we've put a lot of thought into producing this pack, and making sure you get the content you need as a course creator, webinar host, or eBook author to promote your product.
The template features 30 fully animated marketing scenes including pricing modules, reviews, animated course icons, ebook, video course, sale, social media callouts, call to actions (purchase, get started now, download, preview course), sample chapter content, about the author and much more.
The video template is fully modular, allowing you to rearrange the scenes to create a story of your own. You also get a set of 40 animated icons, that allows you to create custom scenes according to your specific needs.
And wait, there's more. The template features a fast color control changes, that allows you to easily and quickly edit all the colors to match your course branding.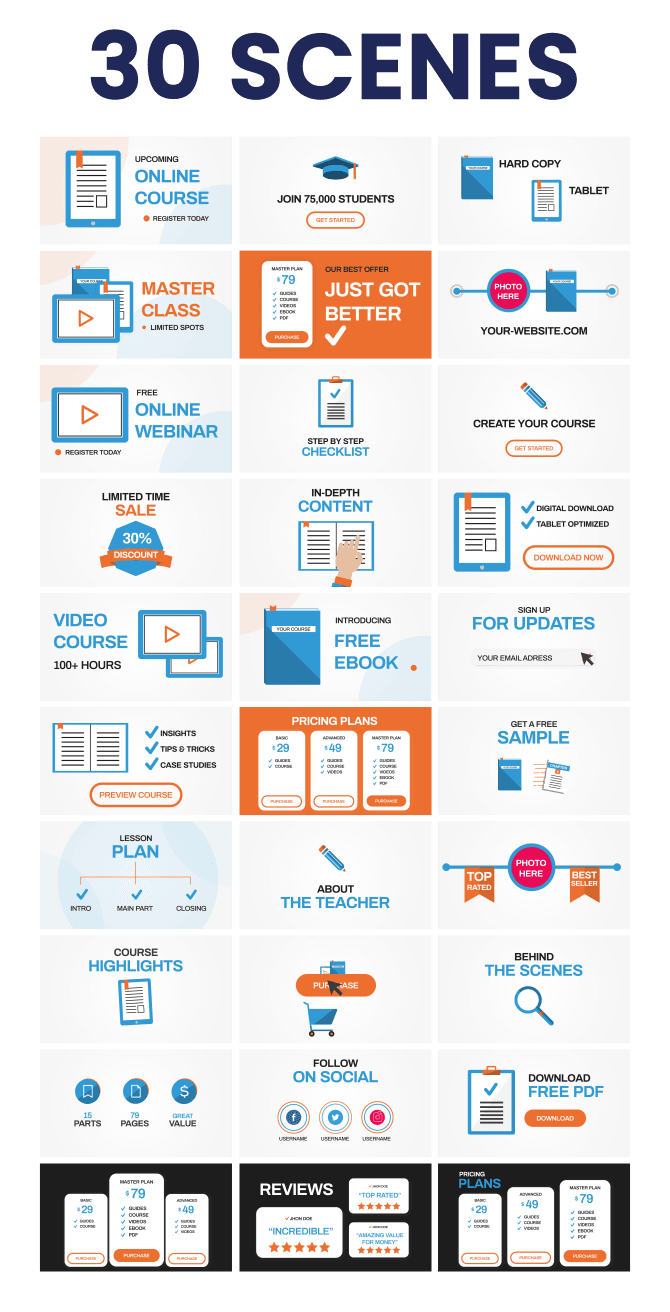 30 Modular Scenes (drag and drop, build your own marketing video).
40 Animated Elements (easily create a fully custom scene)
Full Story Length 4:05 (easily delete scenes and shorten to any custom length).
Change All Colors in Seconds via Color Control.
User friendly – well organized & super easy to edit.
100% Modular Project.
Build Your Own Story (Mix, Combine, Delete any scene)
FullHD 1920×1080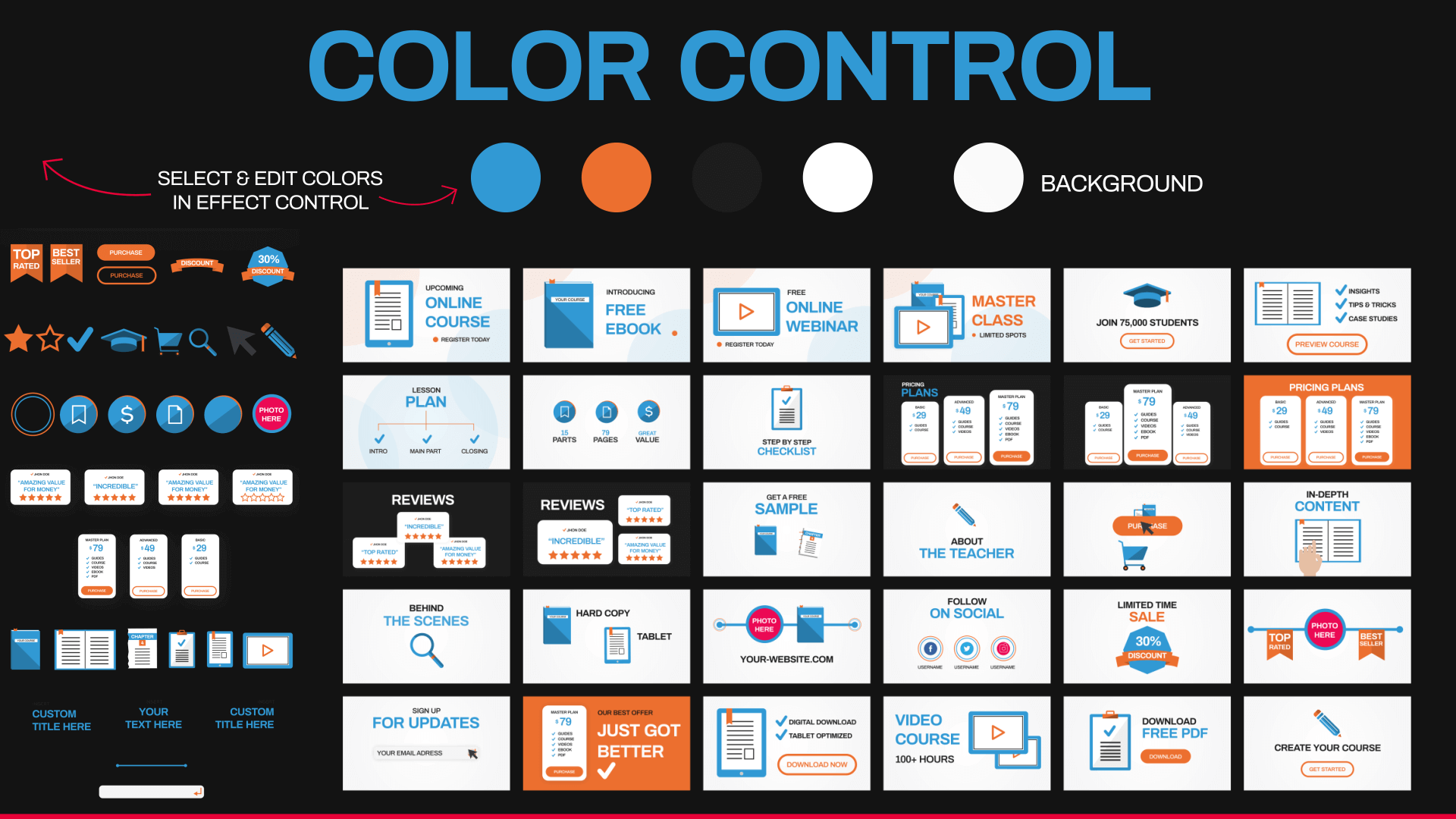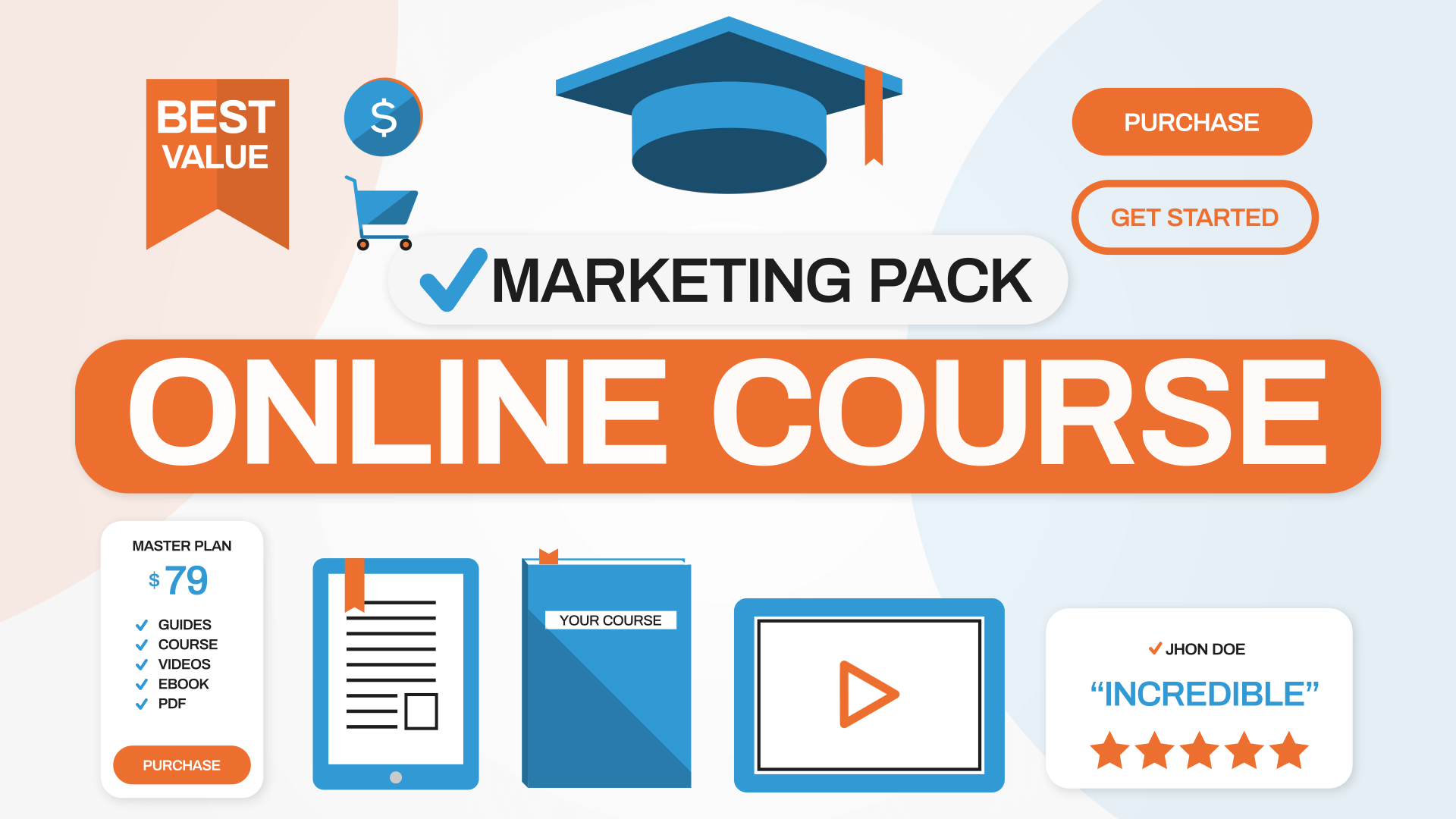 Online Course/Webinar/eBook Marketing Pack Features:
New in V2 (May 2020 release):
10 New Animated scenes (now includes 30 scenes!)
Updated design of many outdated scenes
40 Animated elements now included for drag & drop
Update universal expressions – works with any language of Adobe After Effects
Optimized project file for faster editing speed (reduced from 135mb to only 8mb super lightweight!)
30 Modular Scenes (drag and drop, build your own marketing video):
Online course, Ebook marketing, Online Webinar, Master Class, Join Students, Preview Course, Course Outline, Course Highlights, Step by Step Checklist, Multiple Pricing Plan Layouts, Rating/Reviews, Sample Content, About the Author, Add to Cart, In-depth Course, Behind the Scenes, Author Website Promotion, Sale/Discount Promotion, Top Rated Badge and Best Selling Badges, Sign up to Newsletter, Download Digital Product, Video Course Marketing, Download PDF, Create Your Own Course, Follow on Social Media.
The post Download VIDEOHIVE ONLINE COURSE/WEBINAR/EBOOK MARKETING PACK – AE Template appeared first on Free After Effects Templates Library.